About Us
GSH BIO-TECH

GSH BIO-TECH is an innovative high-tech enterprise with the core of enzyme catalysis technology in the field of synthetic biology and the interdisciplinary application of multidisciplinary technology. The aim is to develop biotechnology and industrialization of high value-added API. The p ioneer of the global enzymatic catalyzed coupled ATP regeneration technology, we advocate green production and has been committed to providing customers with better and more environmentally friendly products and services. As a powerful production-oriented enterprise, we truly integrate R&D, production and sales, with stable supply and quality for customers and double guarantee of service.
The company's main products are L-Glutathione Reduced(GSH), β-Nicotinamide Mononucleotide(NMN) , Citicoline Sodium(CDPC) and other raw materials. The acid market share ranks among the top three in China, and the products are exported to Europe, America, South Korea, India and other parts of the world.
SUBSIDIARY OF GSH BIO-TECH
1. R&D CENTER:Beijing Tiankaiyida Bio-Technology Co.,LTD.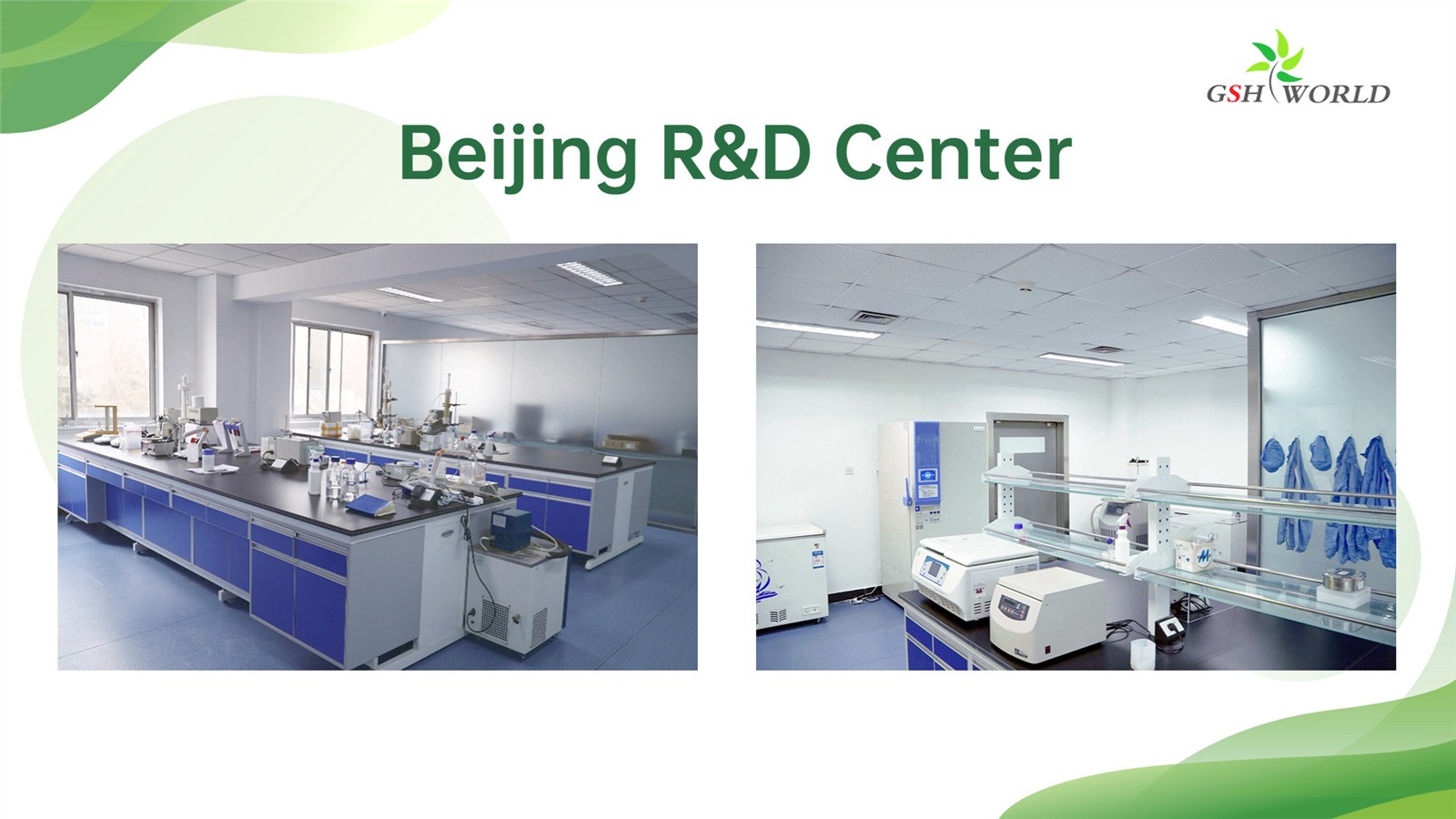 The company's R&D center is located in Beijing Fengtai Science and Technology Park, with complete molecular biology, synthetic biology and fermentation laboratories. The R&D team is composed of well-known domestic universities and personnel studying in the United States and Germany. The company's research and development of GSH, NMN and other production technologies are internationally leading, all of which are self-developed enzymatic technology and have obtained a number of national patents. Meanwhile, we have also applied for various product certificates, such as KOSHER, HALAL, ISO9001, FDA,HACCP, BRC, etc.
2. PRODUCTION BASES:Anhui GSH Bio-Technology Co.,LTD.
Jilin Aoteng Bio-Technology Co.,LTD.
Jilin GSH Bio-Technology Co.,LTD.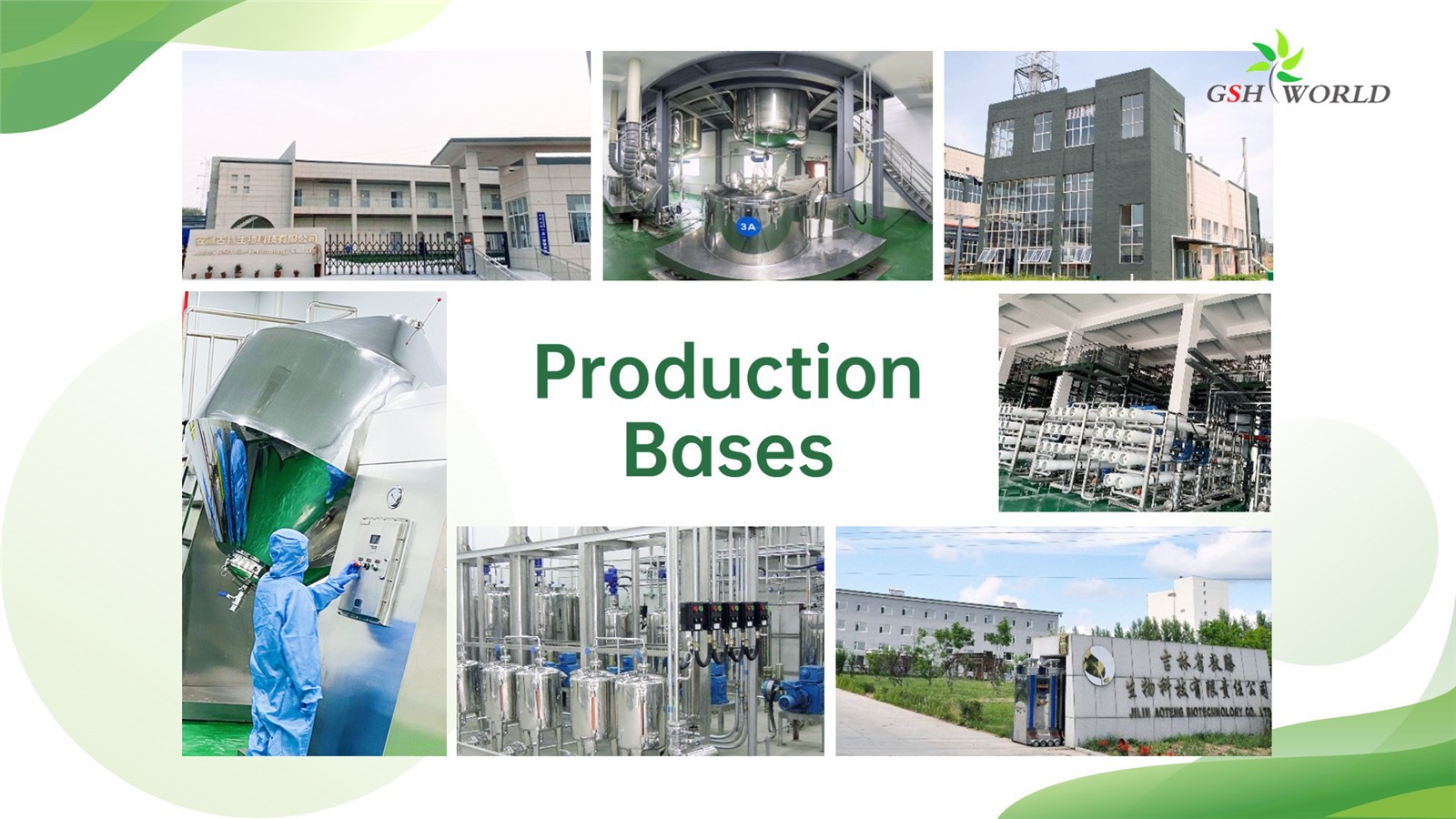 The factory is designed and constructed in accordance with GMP requirements, and production and operation comply with EUGMP requirements.
Anhui GSH production base:It covers an area of 20,000 m2, has a construction area of 10,000 m2, invested 120 million in production equipment and 20 million in safety and environmental protection. Annual capaticy of GSH can reach around 200tons.
Jilin Aoteng production base:Annual capaticy of GSH is 70tons, GMP standard plant, strict quality control system.
Jilin GSH production base:It's our third factory, located in Yanbian "West Gate"-- Jilin Dunhua. The new plant, with an investment of 580 million yuan, will cover an area of 62,000 square meters and a construction area of 33,000 square meters. It will mainly build standard fermentation workshops, reaction workshops, purification workshops and crystallization workshops, as well as raw materials, product warehouse. It is estimated that during the 14th five-year plan period, the annual capaticy of NMN will be over 1000 tons.

3. MARKET HEADQUARTER:Shenzhen GSH Bio-Technology Co.,LTD.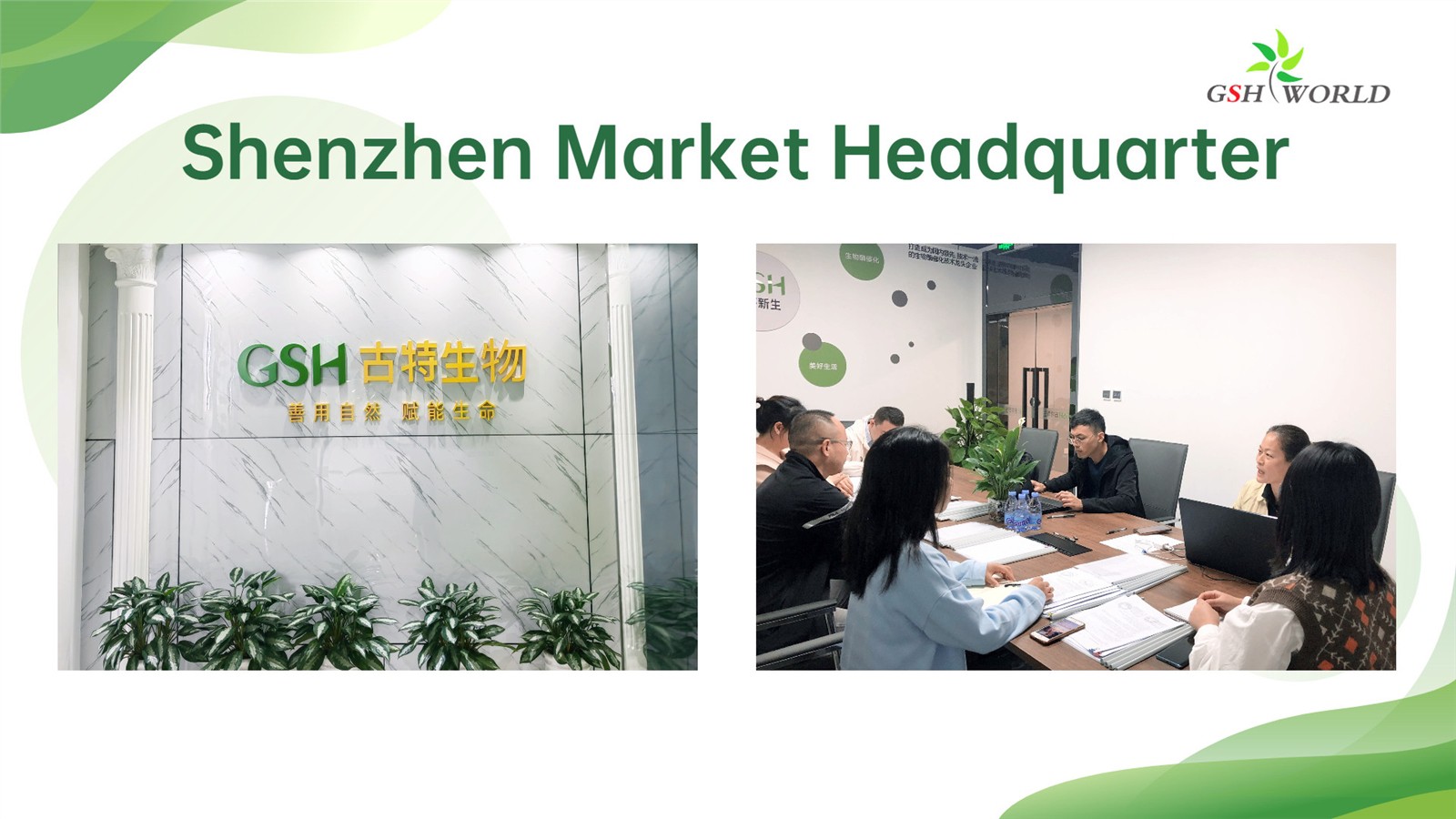 Headquartered in Shenzhen Nanshan Ecological Science and Technology Park, with an excellent management team and products exported to Europe, the United States, Southeast Asia and other markets, market sales year by year.
Company participated in the major exhibitions at home and abroad every year, looking forward to meeting you!