Adenosine Triphosphate (ATP) is a nucleotide molecule that plays a major role in metabolism. It is one of the most widely used source of energy in living systems, and plays a pivotal role in the functioning and regulation of metabolic processes in a wide range of organisms, from prokaryotes to plants, animals and humans.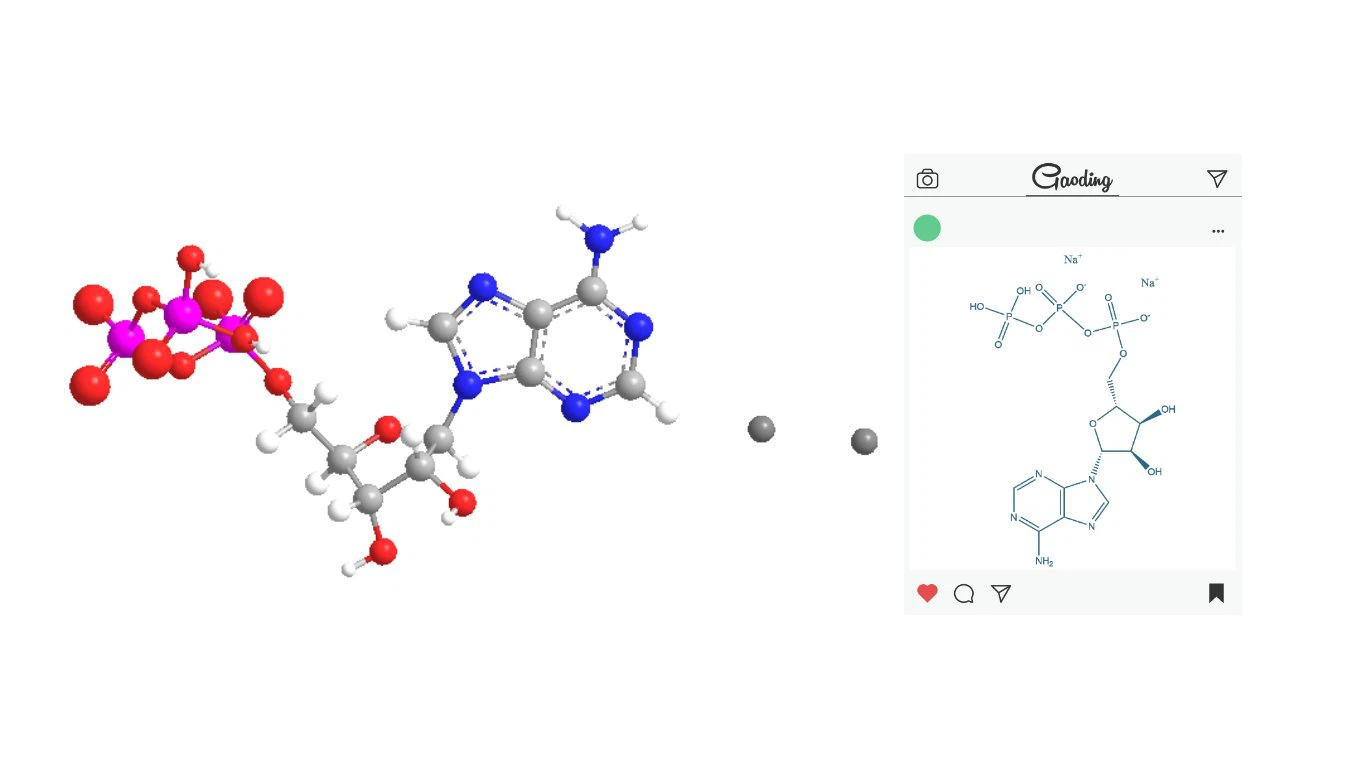 Adenosine Triphosphate Disodium(C10H14N5Na2O13P3)

CAS NO.

987-65-5

Appearance

White or almost white powder

Assay

C10H14N5Na2O13P3≥95%(on the dried basis)

Heavy metals

Not more than 10 ppm

Loss on drying

Not more than 8%

Application

Raw material、medicine

Shelf Life

18 months when properly stored.
In addition to its role in providing energy for biochemical reactions and for the generation of movement, ATP also regulates the activity of genes. It helps cells to coordinate and regulate activities such as growth, response to signals, and immune responses.
It is involved in the production, transport and oxidation of food molecules, as well as for muscle contraction, exchanging signals between cells, and maintaining cell structure. Furthermore, ATP maintains gene activity and helps cells to coordinate and regulate functions such as growth, response to signals, and immune responses.
ATP can function as an excitatory neurotransmitter in the information transmission of the nervous system, and ATP receptors have been found on the plasma membranes of viscera, central and peripheral nervous systems, etc. Signaling molecules that transmit information. At present, ATP, as a drug, mainly utilizes the function of its signaling molecule.
Clinically, adenosine triphosphate can be used as an auxiliary treatment for various diseases, such as the treatment of heart failure, myocarditis, myocardial infarction, coronary atherosclerosis, and also for the treatment of cerebral arteriosclerosis, muscular atrophy, optic atrophy and other neurological diseases.
Anhui GSH BIO-Technology Co., LTD is dedicated to the innovation research and development of high-value-added APIs, important pharmaceutical intermediates and cosmetics raw materials. Should you have interests in us, please don't hesitate to get in touch with us,we will be pleased to supply any further information you require.
Why Choose us
1.OEM service professional design team
2.Professionally supplying natural food and cosmetics ingredients products
3.100% inspection before delivery
4.Inventory 24 hour delivery
5.Complete documentary system
FAQ
1: What's your MOQ?
A: It depends on different products. We accept sample order. Also, for some products, we can provide you with a free sample.
2: Do you provide after-sales service?
A: We provide 24-hour customer service. If you encounter any product quality problems or transportation problems, please feel free to contact us.
3: How about delivery time and method?
A: We usually ship within 3-7. We can ship by sea, air, and express. It also can make door to door shipping.
4: How to solve the after-sale disputes?
A: We accept changing or refunding service if any quality problem.