Citicoline sodium (CDPC) is an endogenous nucleoside naturally produced in the body. The repair of nerve cell membranes requires a large amount of Citicoline Sodium. It has the functions of repairing brain damage and anti-oxidation, and has been widely used in clinical.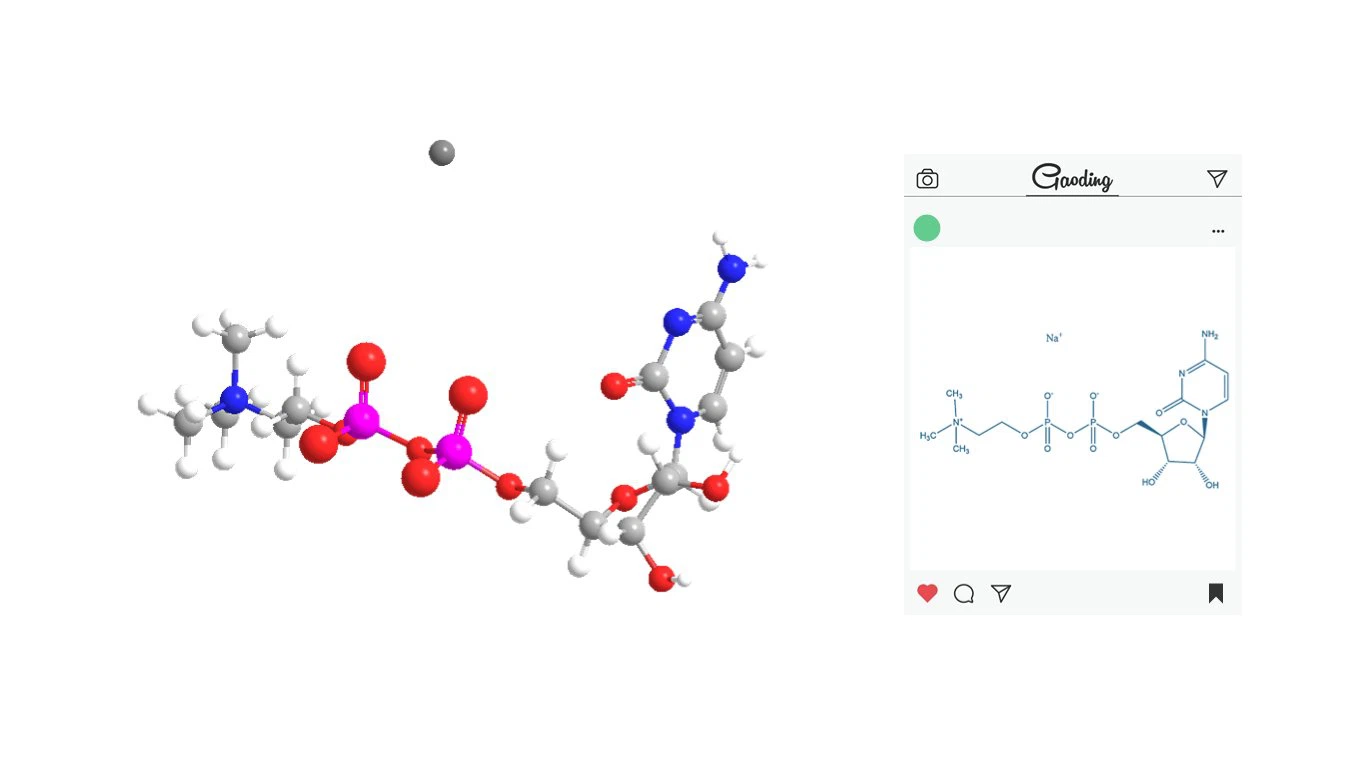 Citicoline Sodium(C14H25N4NaO11P2)

CAS

33818-15-4

Appearance

White powder

Assay

≥98.0%

Loss on drying

Not more than 1%

Heavy Metal

Not more than 10ppm

Application

Raw material、medicine

Shelf Life

24 months when properly stored.
Application
Citicoline is a multimodal agent that has demonstrated neuroprotective and neuroregenerative effects in various experimental and clinical disorders of the central nervous system, including acute and chronic cerebral ischemia, cerebral hemorrhage, and global cerebral hypoxia. It provides neuroprotection by attenuating glutamate excitotoxicity, oxidative stress, apoptosis, and blood-brain barrier dysfunction.
In recent years, in addition to being used in brain surgery and traumatic brain injury, it is also used in the auxiliary treatment of function and consciousness, tremor paralysis, tinnitus and nervous deafness, glaucoma and amblyopia caused by acute injury of the central nervous system.
Citicoline may also act as an adjuvant therapy and prevent cognitive decline and other neurological complications associated with COVID-19.
CDPC can be administered intravenously, intramuscularly or orally: after administration, citicoline sodium is catabolized relatively quickly and is the source of choline in the blood. After oral administration, citicoline sodium is rapidly absorbed and then hydrolyzed into choline and cytidine in the intestinal wall and liver; thus, in addition to providing metabolic precursors of phospholipids, it also enters the synthesis pathways of nucleic acids, proteins and acetylcholine.
Today, citicoline is available as an oral, intravenous infusion, intramuscular injection, and eye drops.
Product Line
At present, Anhui GSH Bio-Technology Co.,LTD. has completed the production and research of Citicoline Sodium, and the product pipeline can reach an annual production capacity of 200 tons, realizing the commercial scale production of Citicoline Sodium.
We has always adhered to green environmental protection, technological innovation and global layout. The company is equipped with advanced scientific research equipment and an experienced scientific research team. The enzymatic technology developed by the company has obtained a number of national patents.
Anhui GSH Bio-Technology Co.,LTD. is committed to innovative research and development of high value-added APIs, important pharmaceutical intermediates and cosmetic raw materials, realizing commercial production, and stably and continuously serving global customers.
F&A
1.what's your delivery time?
Usually we will arrange the shipment in 7-15 days.
2.How about the packing?
Usually we provide the packing as 25kg/bag or carton.Of course,if you have special requirements on them,we will according to you.
3.How about the validity of the products?
According to the products you ordered.